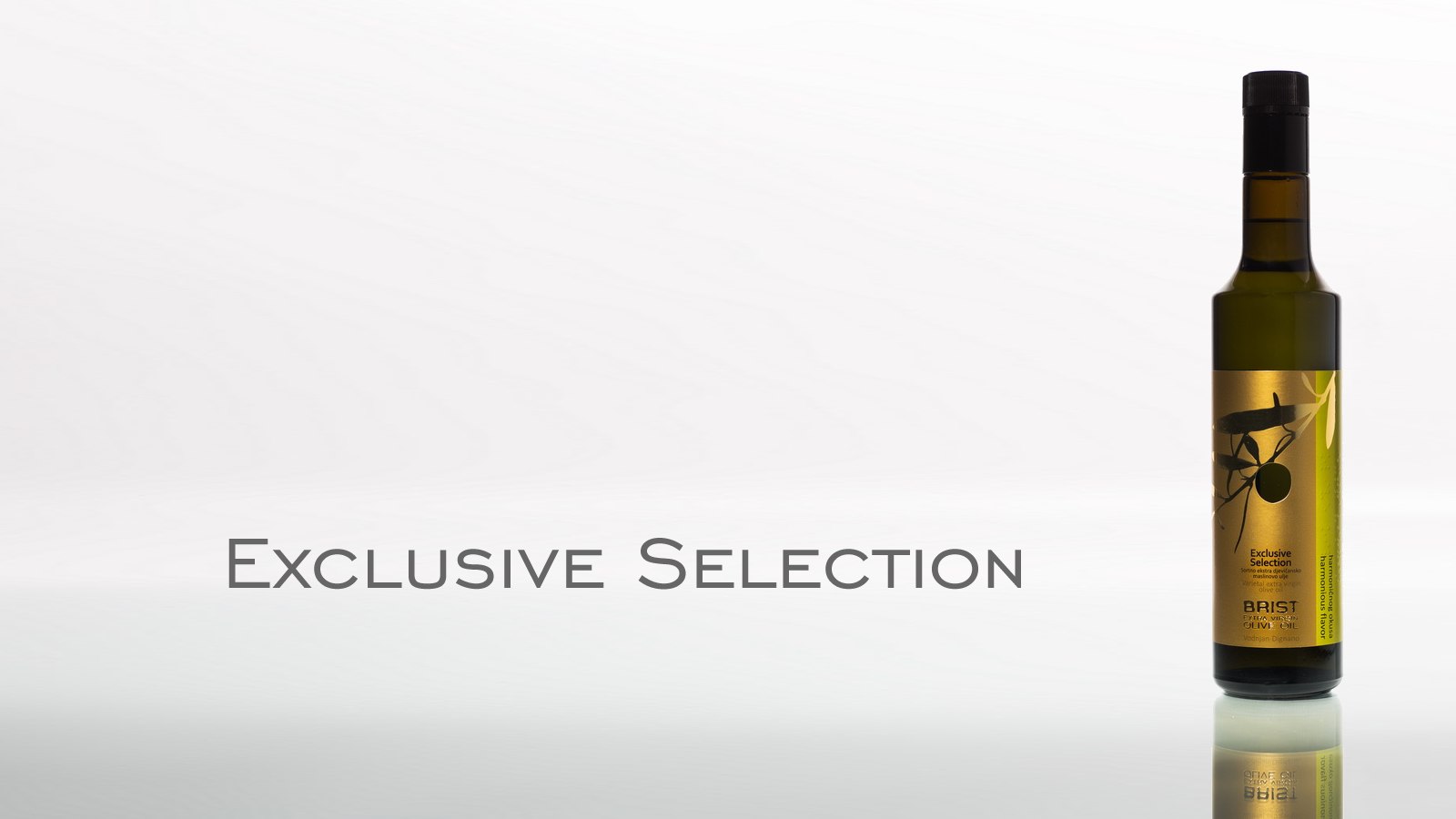 Let us introduce you to the newest member of out olive oil family – and the oldest at the same time. Brist Exclusive Selection is the culmination of many years hard work in perfecting our methodology to bring you the most exceptional of olive oils.
Exclusive Selection is a varietal oil made from olives of the Vodnjan Buža variety, hand picked and hand selected by our family. Chosen with care from the very best of our century old trees. This EVOO is a limited edition and is available at the Brist Olive Oil Shop in Vodnjan or by ordering directly. We look forward to sharing this very special and unique gift with you.
Varietal (Vodnjan Buža) Extra Virgin Olive Oil
Flavour:  A full bodied oil, with a natural balance of fruity, grassy and spicy tones. Elegant in its complexity.
Use:  Finishing hot, warm and cold dishes.
Serving recommendation: Recommended with a variety of salads, mature cheeses, grilled fish and chicken, roasted vegetables, legume and cereal soups, or simply as a dip with a sprinkle of sea salt and some homemade bread. 
Olive Variety:
Vodnjan Buža
Our Process:  Our milling process is second to none, cold milled – centrifuge and then the oil is permitted to rest before the filtering process. We simply don't know where you could get your hands on a better olive oil. Every stage of the process is of the highest standard and for the below reasons, we know you won't find better.
Istria has perfect growing latitude
South Istria has a 2000 year tradition in growing oil
Considered the best empire by the Romans (and worldwide by Flos Olei, the recognised olive oil expert guide)
Istria has exceptional soil, clean rain and salt laden winds
We select from only the finest of our century old trees
Hand picked
Hand selected
To milling in under three hours
Cold milled
Centrifuge spun
Stored in stainless steel vats
Stored under nitrogen to prevent oxygenisation
Gently filtered
Bottled with special valve caps to prevent oxidation
Vegetarian friendly
Braille labeling for the blind
Pure Vodnjan Buža (varietal)
We look forward to sharing this very special and unique gift with you.
_______________________________
Don't just take our word for it.