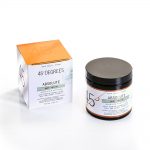 Bale 45° – Body Polish 236ml
Bale 45° – Body Polish 236ml
€ 30,50
Contents:
Completely natural Absolute body Polish from 45 Degrees with premium organic olive pulp from Istrian eco groves, an elixir of antioxidants and minerals.
Nourishing grape seed oil, olive oil and shea butter enriched with petit grain, orange, vanilla and peppermint essential oils energize and uplift the senses. Horsetail extract and olive kernel micro particles gently exfoliate dead skin cells without damaging the epidermis. It works from the surface deep down the skin. For satin-soft touch and long lasting nourishing effect. The skin is feeling firm, healthy-looking and radiant.
Application:
Apply up to twice a week on dry skin, massage and rinse off thoroughly with clean water. Massage in circular movements all over your body, with special care on knees, elbows and feet. Allow your skin to breathe.