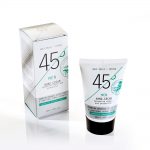 Bale 45° – Men's Hand Cream 50ml
Bale 45° – Men's Hand Cream 50ml
€ 11,50
Contents:
Completely natural hand care from 45 Degrees with premium organic olive pulp from Istria eco groves, an elixir of antioxidants and minerals.
Avocado oil, flaxseed oil, castor oil, comfrey extract, rosemary extract, horsetail extract and shea butter are brought together in an advanced formula. For long lasting nourishing effect. Mild scent of laurus and vanilla essential oils in the richest texture for everyday use.
Application:
Apply a thick layer on hands and nails as a leave-on hand mask whenever necessary, or as a hand cream several times a day.