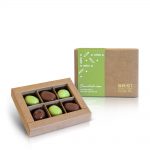 Brist Praline Chocolate Box 80g
Brist Praline Chocolate Box 80g
12,50€ (94,18 Kn)
Flavour:
Rich and complex, with balanced flavours of fig, honey, almond and extra virgin oilve oil.
Ingredients:
Dark chocolate with 70% cocoa and white chocolate with 28% cocoa (cocoa mass, cocoa butter, milk powder, sugar, soy lecithin), dried figs, almonds, honey, honey liquor, extra virgin olive oil, natural edible colors (spirulina and turmeric).
Weight:
80g
Food allergy notice:
May contain traces of milk and nuts.