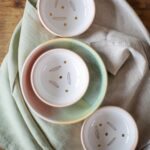 Olive Oil Experience Ceramic set (2 pcs)
Olive Oil Experience Ceramic set (2 pcs)
29,50€ (222,27 Kn)
Ceramic set (2 pcs) for olive oil tasting and multipurpose use, consists of one bigger and one smaller bowl, as an elegant addition to your table setting.
Decorated with beautiful reactive glazes in pastel green & blush tones.
All pieces are entirely hand-shaped, thrown and glazed in Marinski Heartmades studio, Croatia. As they are handcrafted, slight variations in in size and colors are possible.
Bowls are suitable for food contact and made for everyday use. Decorated with gold decals, we recommend handwashing.
Measurements approximately H 5 x Ø 11.5 cm (bigger) / H 3.2 x Ø 8 cm (smaller)