We are a cheerful Istrian – Irish family from Vodnjan, South Istria in Croatia, producing high quality extra virgin olive oil for almost two decades.
We create our oils with great passion and, above all, a great respect for Nature. We take care of our centuries old and newly planted trees of native Istrian varieties that grow happily in our beautifully positioned olive grove with spectacular views over the Brijuni Archipelago.
Our small but hard working team consists of my father Silvano, an engineer by profession who, as a true perfectionist, takes care of the olive grove as well as of the whole production; then my Irish husband Paul, an architect who fell in love with olive oil (and me 😊), who now leads the sales and the export, and then there is me – Lena, archaeologist and art historian with a deep love for gastronomy and olive oil. I balance the male energies, take care of our visuals and design, customer relationship and promotion. Also, as a certified olive oil taster, I usually lead the presentations and tastings.
Our little shop in Vodnjan is a place where many stories are exchanged, where we will take you on a journey through olive oil. And for a real experience, you can join our Sunset tour where we will tell you the story of Istria, its traditions, while sharing all our knowledge about producing top quality extra virgin olive oil and enjoying the sunset.
We are very much looking forward to your visit!
Come and enjoy a free guided tasting of our full range of BRIST extra virgin olive oils in the beautiful and historic town of Vodnjan. The town is known as the home of Istrian olive oil because of its uniquely suited micro climate, its history of olive cultivation since Roman times, and its present reputation for world class production.
October – May
Monday – Friday 10 – 14
Saturdays 10 – 14
June – Sept
Monday – Friday 10 – 16

Saturdays 10 – 14
The Brist Shop is:
wheelchair accessible
young kids & family friendly
Address:
Trgovačka 40, Vodnjan 52215
(opposite the post office)
We are close by:
5 minutes from Fažana
10 Minutes from Pula
20 minutes from Rovinj
30 minutes from Porec
40 minutes from Opatija
50 minutes from Rijeka
We are open summer and winter. However, as a small family business, sometimes we need to step away from the shop for deliveries, work on the grove or in the cellar. Therefore, during the low season, it is a good idea to call ahead to ensure that we are open for you.
Click below for more information on our location, the best place to park and where else you can buy and experience Brist oils with a beautiful meal with one of our great restaurant partners. 
As a family we were greatly honored to be asked by the BBC to represent the olive oil experience in Istria. Such a professional team and really fun to work with, it was so encouraging that they really wanted to get a feel for us as a family and what it means to do something we so deeply care about.

The heart of everything we do is our olive grove located, just 3km from the shop, in the gently surrounding hills of Vodnjan. There is so much to learn about, especially the history of the land, going back to Roman times and before. Perhaps the most magical part is the views over the Brijuni archipelago, especially at sunset.
Enjoy a winter tour too...
Autumn, winter and spring are also wonderful times to visit the grove and a real opportunity to see behind the scenes of what olive growing is all about. During the cooler parts of the year we do walking tours with optional full tastings in the shop afterwards. Be ready, when nature takes control, it can get a little wild up there on our olive grove, but the wildness is beautiful…
BRIST extra virgin olive oils, are all domestically produced from traditionally native Istrian olive sorts. These olives have been grown for thousands of years on this small peninsula with its uniquely suited micro-climate. The combination of perfect sunlight, light rain, nutrient rich soil and fresh sea salted winds give this small region unsurpassed olive growing conditions and now a growing reputation again for world class oils. It is known that during the time of ancient Rome, Istrian olive oil was considered, throughout the empire, to be the finest.
Brist Olive are delighted to present a range of extra virgin olive oils. Brist Oleum is a high quality oil, popular with top restaurants and great for both cooking and finishing dishes. Brist Premium offers a choice of three tasting experiences – delicate, harmonious and intense. Finally, there is Brist Exclusive Selection, created from hand picked and hand selected olives grown on century old trees, seasoned a life time in the perfect growing environment of Vodnjan.
Our new design is inspired by guests wanting to know more about our family and the Sta. Margherita Olive Grove, where our olives are grown. More and more guests are choosing to visit our grove to get a real feeling for what olive oil is really all about and why we are passionate about making it.
Tina Erman Popović is our young and very talented designer, and an Istrian local. What makes her extra special is that she can work well with Lena and Paul who also have a strong design sense. There is a story behind our design which is about the elements of what we do and what inspires us. You can just enjoy the visual beauty of the bottles or you can dig a little deeper if you wish to – we are always happy to share the story if asked.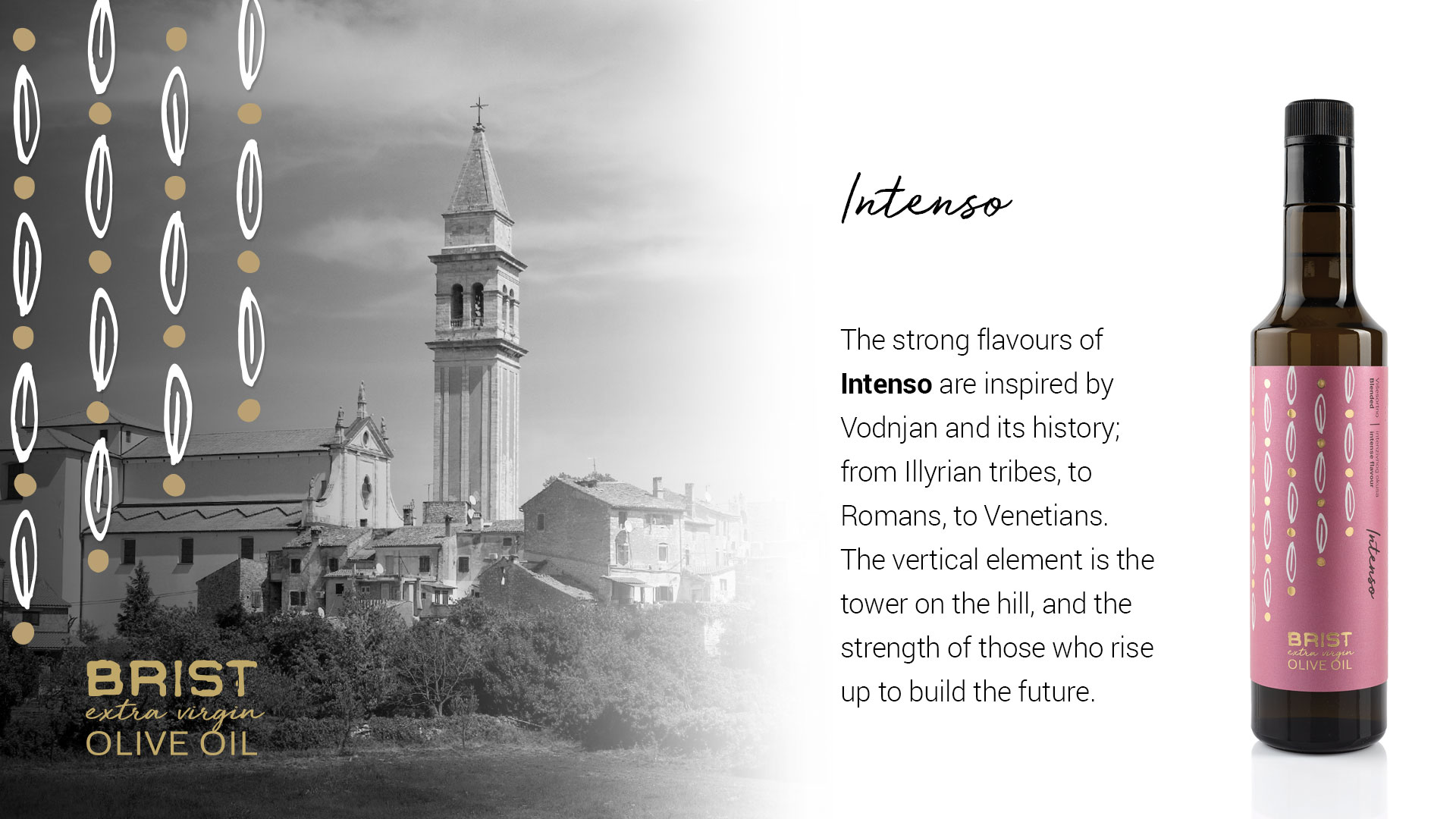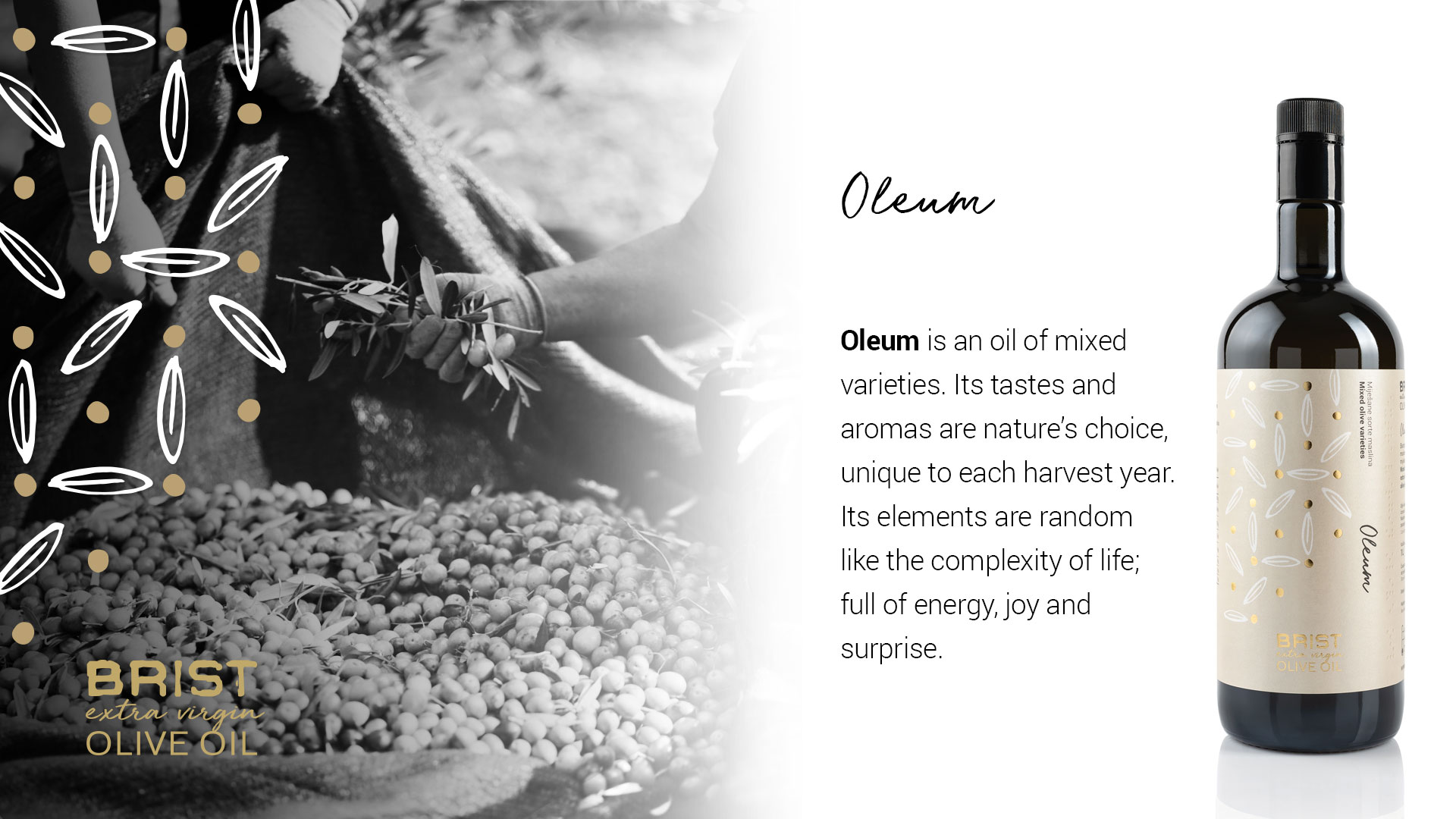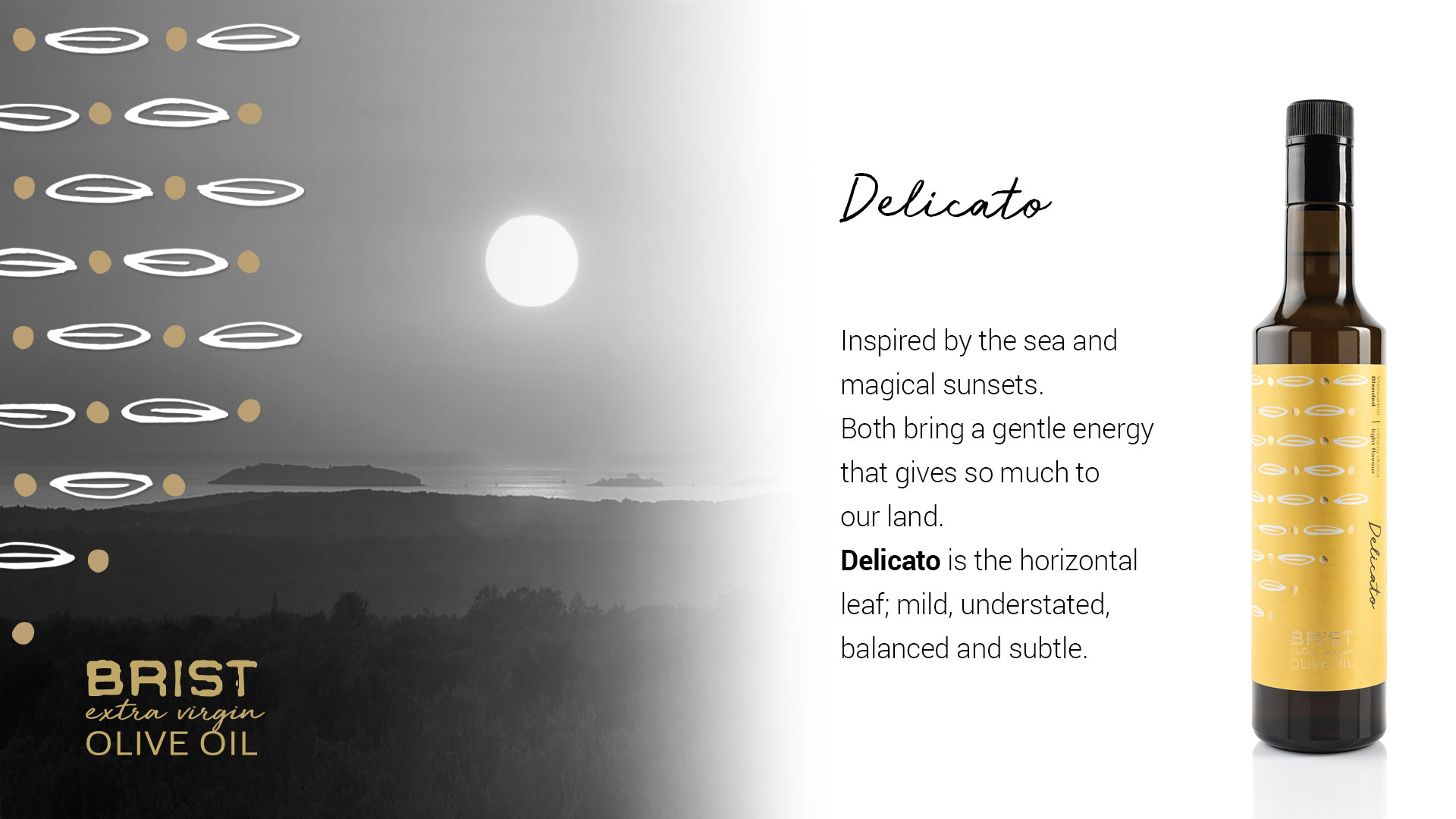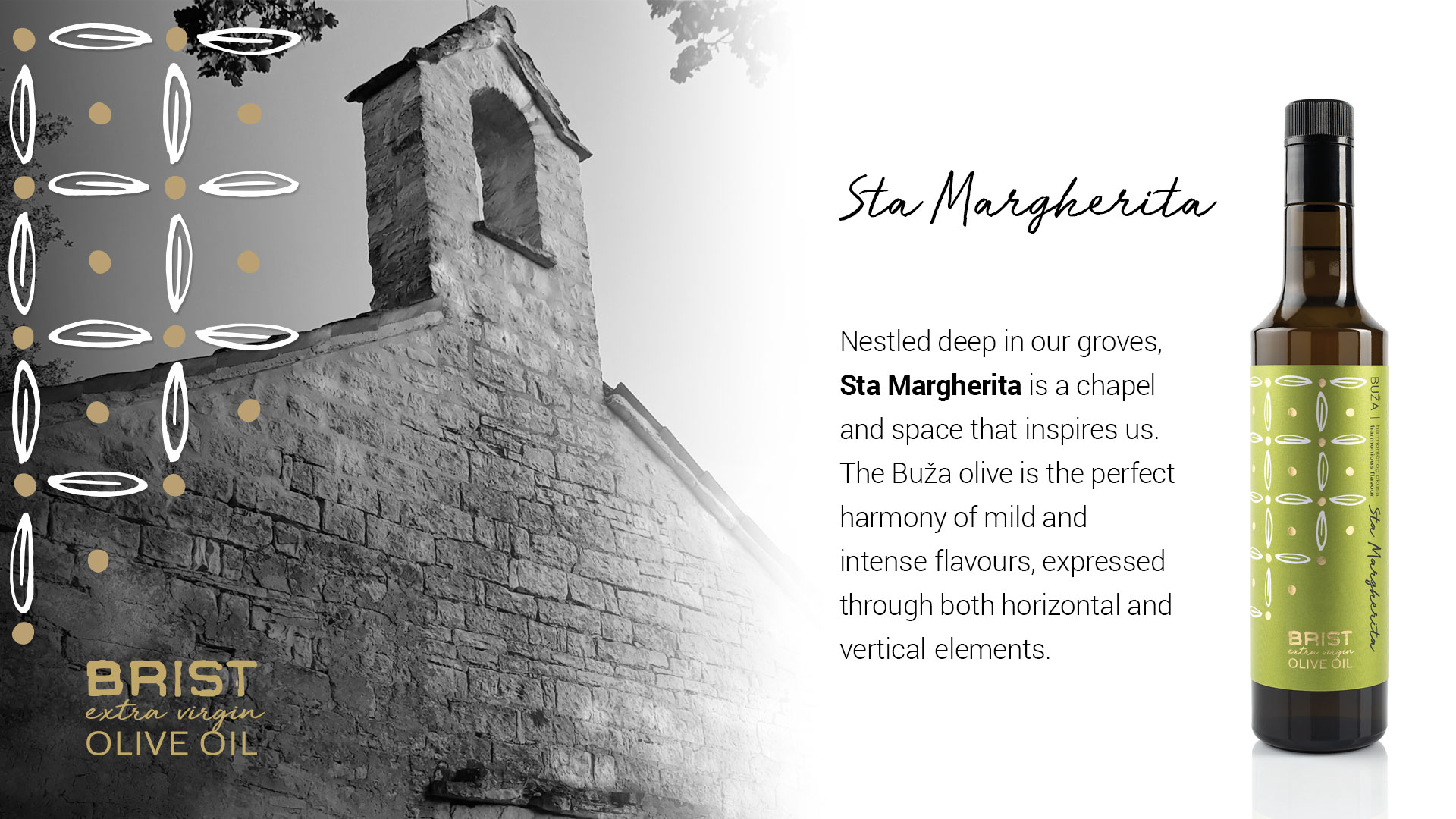 As much as awards can be considered important in the process of assessing the quality of an olive oil, they are just part of the picture. Beside awards is analysis, whether that be chemical or sensory. Most importantly, however for us, is trusting our own instincts and experience, and above all listening openly to the feedback of our guests.

Highlight of the vacation
We learned a lot about olive oil and had a wonderful day in the shop and on the tour with Paul and his family! It was definitely a highlight of our vacation. You seldom see such a passion for a product and you can feel it immediately when trying it and in the atmosphere. No other olive oil comes into our house!

Thanks Paul and family!!!
We are a small family business, and every review really helps especially as it comes from you,
Brist are proud to have been named every year since its beginning in the internationally respected world guide book on extra virgin olive oils – Flos Olei. We also received two "World top 20" awards in 2019 & 2020 and most recently a gold in the prestigious New York olive oil competition in 2020. Come, do a free tasting with us in Vodnjan or visit our grove and learn why this region is so special for olive oil.
National & International Awards
As a family we love sharing our passion for high quality extra virgin olive oil, ethically locally produced food and why these things mean so much to us. It is our great pleasure to share with you, your family or group as much knowledge and insight as we possibly can. We are deeply appreciative of the positive feedback we have received to date and hope that your experience with us will be equally positive, educational and fun.
From the generations of our family gathering the olives at harvest time, to our oil reaching your family table, the ethos of Brist remains professional but ultimately a family, and a family friendly endeavour. From our family to yours, we wish you great enjoyment of our wonderful, healthy, unique and naturally produced extra virgin olive oils.