Olive oil is an important ingredient in any kitchen but good chefs know exactly how to pair the right oil with a dish to enhance its flavors. For Croatian chef Deniz Zembo, olive oil is an essential ingredient in his culinary creations that even offers the scope to innovate and experiment, something he's not afraid to do.
Well-known for his creativity in the kitchen and food presentation, Zembo has celebrity chef status in Croatia as one of the stars of MasterChef Croatia and the mastermind behind several successful restaurant ventures. Today he's the head chef and owner of Hotel Amfiteatar and its restaurant located in Pula, a city on the southern tip of the Istrian peninsula.
Istria is an olive-growing region that has been producing oil since Roman times but it's only in recent years that it's attracted much attention and international accolades for the high quality of its extra virgin olive oil.
In 2015, the ministry of agriculture granted a protected designation of origin (PDO) appellation for olive oil produced, processed and prepared in the Istrian region — a mark of quality and authenticity. Soon Istrian olive oil will also enjoy PDO status at the EU level together with the olive oil produced in the Slovenian part of the peninsula.
One of the advantages of running a restaurant in Istria for Zembo is the high-quality products he's able to find locally. Most mornings he can be found browsing the stalls at Pula's open air farmers market sourcing the ingredients for his restaurant himself. And there's lots of high-quality olive oil to choose from in the region.
"There are many excellent producers here and many of them are small family producers who have modern equipment to press their oil themselves," he said as he lined up half a dozen bottles of his favorite local oils. "Istria is the northernmost olive oil-producing region in the Mediterranean and it has the ideal climate — a lot like Tuscany but not too hot. In my opinion, Istrian olive oil is one of the best in the world and that's thanks to nature itself."
With so many local producers to choose from, how does Zembo select the oils he uses in his kitchen? "I have tasted the oil of many, many producers here in Istria, especially small family-owned olive oil producers," he revealed. "But I especially like a brand called Brist produced by a family-owned and operated olive farm in nearby Vodnjan run by Silvano Puhar. They have a fabulous selection of quality olive oils that also offer the best value for money. One of my favorites is their Buža monovarietal made from their grove's oldest tree that's more than 500 years old."
Istrian olive oil is characterized by its moderate to intense flavors, distinctive fruity notes and high phenolic content. When it comes to cooking with olive oil and pairing it with certain foods, there are a few basics to consider. "There are three flavors from the cooking aspect: nutty, grassy and fruity," Zembo explained. "The oils from Tuscany and Provence tend to have more of a nutty taste because of higher summer temperatures in those regions, while Istrian olive oil is more fruity with notes of apples and tomatoes. The new, freshly pressed oil is pungent and high in polyphenols. The Leccino produced here has a delightful green grassy flavor. And then there are oils like Buža that have a strong taste and you have to be careful how to use them because they can overpower the dish."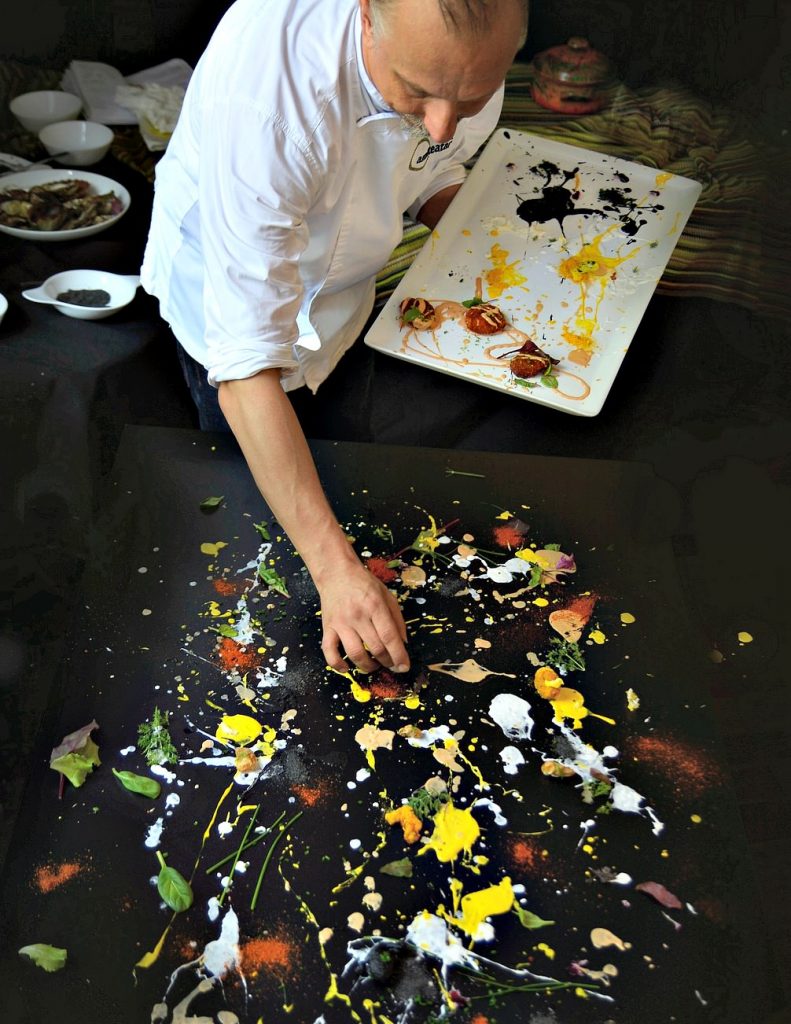 He then pointed out the importance of carefully considering which olive oil to combine with the main ingredient of a dish. "Leccino is excellent for carpaccios and salads. Buža is a local olive variety of big olives and a pungent taste that's also best used in cold platters. For tuna or steak, I use črnica – known as Carbonaza in Italian, Pendolino, or Frantoio, because they give the strongest taste."
Olive oil can also be a surprising addition to desserts. "I use olive oil as a base for cooking and to finish dishes, but I really love to play with it when I prepare desserts," he said. "For example, for vegan desserts, I use olive oil instead of butter. I often use an olive oil with a high percentage of Leccino because it's a good all-rounder. In my orange zest sorbet, I add a good dose of Brist's Buža, and Istarska Bjelica is excellent with chocolate."
Despite contrary information, most cooks know that extra virgin olive oil can be used for cooking and not only to finish dishes. But few have yet to catch on to its versatility and the scope it offers for experimentation. This is something that Zembo has been especially keen to explore, sometimes in surprising ways.
"I use olive oil for marinades of course, but also to make emulsions that include citrusy flavors. I also love playing with olive oil at the molecular level and I use it in different and sometimes playful ways. For example, I use maltodextrin to turn it into a solid, like a powder that I can use in dishes. I even tried to snort it once just for the experience! But it was so strong it made me cry!"
"I learned a lot about how to use olive oil from Spanish chef Fernando Sanchez," he added. "At a competition in Alicante I attended, there were fascinating workshops and presentations on different techniques for using olive oil. I prepared dishes like baked chocolate with warm olive oil frappe made with white chocolate, olive oil ice cream, olive oil crackers… The first prize went to a Spanish chef, of course! But I won second."
Marinades, emulsions, molecular experiments, dessert toppings… the culinary possibilities of cooking and innovating with olive oil are astounding and Zembo has worked on mastering the art. But when asked what's his favorite dish topped with olive oil, he quickly conceded that less is definitely more: "My favorite way to have olive oil? That's easy. Just with bread," he proclaimed. As simple as that.