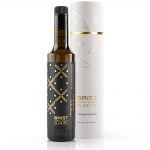 Exclusive Selection + Gift Tube 0,5L
Exclusive Selection + Gift Tube 0,5L
36,50€ (275,01 Kn)
Blended extra virgin olive oil
Hand selected from centennial trees
A limited edition oil made from native Istrian varieties, hand-picked and hand selected by our family. Chosen with care from the very best of our centennial trees. We look forward to sharing this very special and unique gift with you.
Flavour:
A full bodied oil, with a natural balance of fruity, grassy and spicy tones. Elegant in its complexity.
Use:
Finishing.
Serving recommendation:
Recommended with a variety of salads, mature cheeses, grilled fish and chicken, roasted vegetables, legume and cereal soups, or simply as a dip with a sprinkle of sea salt and some homemade bread.
Olive Variety:
A blend of native Istrian varieties: Vodnjanska Buža and Rosignola
Best Before:
10.2024