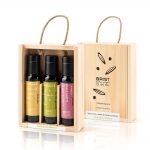 Premium Gift Box 3×0,1L
24,50€ (184,60 Kn)
Brist Premium range is a hand-crafted wooden box.
Delicato
Light and fresh, with notes of grass, fresh herbs and green apple. A very light bitterness and a slightly spicy finish in the mouth. Recommended with light salads, fish and seafood, steamed vegetables, minestrone soup, or as an interesting spice on vanilla ice-cream and lemon sorbet.
Sta Margherita
Harmonious and well rounded. Pronounced fresh cut grass aroma, fruity on the palate with a balanced spicy aftertaste. Combines beautifully with salads, grilled vegetables, polenta, risottos, pasta dishes, and main courses with chicken or mushrooms. Brings a kick of freshness to young cheeses.
Intenso
A robust and intense oil, with an aroma of wild herbs, intense fruitiness, balanced bitterness and pronounced spicyness. Ideally goes with strong flavours in dishes of grilled red meat, prosciutto, truffles, rocket salad, mature cheeses, and as a great finish on dark chocolate ice-cream and cakes.
Olive Varieties:
Delicato: Buža Puntoža, Leccino, Pendolino
Sta Margherita: Vodnjansk Buža
Intenso: Istarska Bjelica, Rožinjola, Moražola, Frantoio and Karbonaca
Best Before:
10.2024