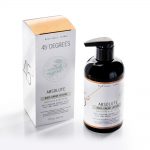 Bale 45° – Body Lotion 250ml
Bale 45° – Body Lotion 250ml
28,75€ (216,62 Kn)
Contents:
Completely natural Absolute Body Cream Lotion from 45 Degrees for deep and intense skin care.
Premium organic olive pulp from Istria eco groves and nourishing avocado oil, grape seed oil, olive oil and horsetail extract rich in antioxidants and minerals, are brought together in an advanced formula. For satin-soft touch, firm skin and long lasting nourishing effect. Delicate scent of clary sage, marjoram, mint and vanilla essential oils in the silkiest texture for your body care ritual.
Application:
Apply in the morning and/or evening, on a clean and dry skin. Starting at your ankles and wrists, massage with the flat of your hands by working towards your heart. Apply in circular motions on your stomach and your way up to your torso, as the motion stimulates circulation.