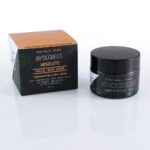 Bale 45° – Facial Rich Cream 50mL
Bale 45° – Facial Rich Cream 50mL
39,25€ (295,73 Kn)
Contents:
An enchanting natural cream from 45 Degrees with a rich and silky texture for an extreme regenerating and anti ageing action. Its advanced formulation with Premium Organic Olive Pulp from Istria eco gardens, is rich in antioxidants and minerals, for smooth, soft and deeply nourished skin.
Enriched with natural active ingredient derived from oak extract and which acts as a strong natural shield against skin aging, specific for sensitive and reactive skin.
Hydrating factor sodium PCA, Buriti oil, Avocado oil, Jojoba oil, Wild Rose fruit oil, Hamamelis Hydrolat, Cocoa butter, Carite butter and vitamin E are brought together to fight the oxidation process, for a radiant and even-looking complexion. Non greasy formula.
Delicate scent of tangerine, lavender and vetiver essential oils for your daily skincare ritual.
Application:
Apply morning and evening on the cleansed face, neck and decolletage, and massage until
completely absorbed.