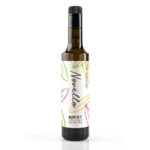 Novello 0,5L – Harvest 2023
Novello 0,5L – Harvest 2023
21,50€ (161,99 Kn)
Early harvest, limited edition, mixed varieties extra virgin olive oil.
Flavour:
A young, unfiltered oil made in the first few days of the harvest in limited quantity.
Of bright green color, full of chlorophyll and antioxidants expressed as aromas of freshly cut grass, fennel, green apple and tomato. Pronounced bitterness and very peppery in the back of the throat.
Use:
Finishing.
Serving recommendation:
To be enjoyed as fresh as possible, on young and aged cheeses, as a finish on pasta dishes and thick vegetable soups, or as a dip with warm bread.
Olive Variety:
Mixed early harvest varieties
Harvest:
2023
Best Before:
10.2025