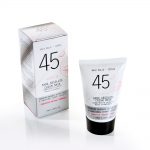 Bale 45° – Women's Hand Cream 50ml
Bale 45° – Women's Hand Cream 50ml
11,50€ (86,65 Kn)
Contents:
A luxurious and completely natural hand treatment formulated for women. 45° Women Hand Absolute Cream Mask meets all hand care needs in one product.
An innovative formula that contains premium organic olive pulp from Istrian groves, enriched with organic wild rose oil, grape seed oil, flaxseed oil, comfrey extract, horsetail extract, marigold extract and shea butter, marjoram and vanilla essences, elixir of long cellular life. Non-greasy, fast absorbing, every-day formula that works on the skin surface and deep down.
Application:
Apply a thick layer on hands and nails as a leave-on hand mask whenever necessary, or as a hand cream several times a day.